It's been 5 years since I joined the ACOT family! I have loved every day of it!! So to celebrate I have put my entire store on sale for 50% OFF!!! The sale will last the whole month of May.
So enjoy!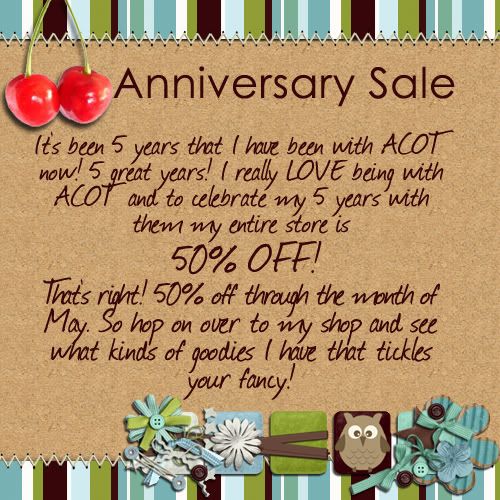 A little about me that I just wanted to add:
I started digiscrapping in 2003. I didn't have anyway to buy any digi items, so I taught myself how to make them using PhotoShop. I scan in little canvas tags to make textures for backgrounds, I spend 3-4 hours from scratch making buttons look realistic, I have spent countless hours on stitching to make it look so real that you can "touch it", I check and double check for frayed edges or blurry pixels just so I can bring you the highest quality digital files possible. I am very proud of what I do and I get super excited to see what you create with my items. Thank you all for being such loyal customers, but more importantly, thank you all for being my friends. I love ACOT!!!