Let's Crop! Friday 3:00 pm - Sunday 9:00 pm EST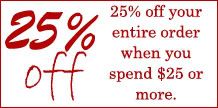 25% off your entire order when you spend $25 or more
on Jeanelle Paige products.
Promo Code:
JPCROP
Promotion requires minimum $25 order. Can be used on sale items.
May only be used once per customer; may not be
combined with other Promo Codes. Valid August 22-24, 2008.