I have been a busy little bee! I made two new kits in two days!!

Bright Fun colors for boys or girls. Cute elements and great patterns to make any LO pop!
I just love this color scheme. Click the image to take you to the store.
I also made 6 free papers that coordinate with this.
Just click the image to DL these papers.
...
Here's another kit, one that I know I will be
using myself a LOT. It turned out just beautiful!
This one is full of beautiful elements and patterns and the colors are just gorgeous!
Again, click the image!
...
Here is an older kit that I think I might re-do. For now I put it on SALE for $3.00.
I love the papers in this one... now that I am posting it I am getting inspired to go make some more elements! I think I will do that, make a cheap add-on kit to this one. I do love the colors and patterns.
...
Unrelated....
My cat Scratchy had 4 kittens on my birthday, August 11th. Her name is Scratchy and her sister is Itchy, lol. Anyways.. They are so cute and she is such a good momma! Well, my friend's cat had 2 babies about 5 days ago, and the momma cat just abandoned them.
She waited for 3 days and the momma cat never came back. She brought the poor kittens to my house today to see if there would be a chance my cat would nurse the them. Well, as soon as we put the kittens on the floor my cat grabbed them and brought them right into the box with the other kittens and started cleaning them and nursing them!! It was so cool to see what an awesome momma cat she is! So, now we have 2 extra little kittens who now have a chance to live and I am so happy!
2 pics... they are cell phone pics so they aren't good, but you can see my wonderful momma cat and her 4 kittens and her 2 adopted ones!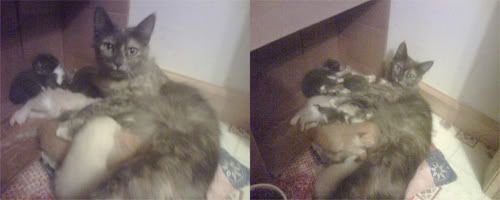 That's it for now! Gotta go tuck the kiddos into bed and then I'm gonna make some more scrappin' stuff! :D